A Coupla White Chicks
Sittin' Around Talking:
The Director
Brenna Geffers
Brenna Geffers makes her directorial debut for New City Stage Company with A Coupla White Chicks Sitting Around Talking. She is the Artistic Associate of Theatre Exile. She directed for Ego Po Productions in 2008, including Tennessee Williams' final play Something Cloudy, Something Clear and Woyzeck by Georg Büchner; translated by Nicholas Rudall. She has worked as the Assistant Director at the Arden on The Syringa Tree (2005), The Arabian Nights (2004) and A Year with Frog and Toad (2004) and The Stinky Cheese Man and Other Fairly Stupid Tales (2005). She has directed the Split Pea Pod for Brick Playhouse (2006). She is a founding member of the Wandering Rom Players and favorite directorial credits include Waiting for Godot and Mother Courage and Her Children.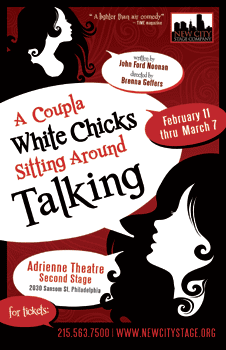 Click image to view larger.